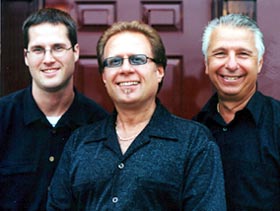 "It's difficult these days to be truly original, but when you combine talent with imagination, respect for tradition with a healthy dose of musical innovation, The NIGHTSHIFT Blues Band creates a result both surprising and refreshing." John Taylor "Blues on Stage"

Based in the Niagara Region, Ontario, Canada, The

has been together performing clubs and major events in Western New York and Southern Ontario for more than six years.
Known for their no holds barred, rockin' blues show, The

while paying homage to traditional blues artists, reaches out and explores the outside edges of the blues universe by adding jazz, funk and R&B into the mix creating a unique sound of their own. Still, they have never forgotten where it all came from. Influenced by Marvin Gaye, Big Joe Turner, Eric Clapton, John Mayall, Robert Cray, Stevie Ray Vaughan, and Chris Duarte, the band's music blends together a variety of blues ingredients to create a unique sound of their own. Founding members Jerry Salfi (bass) and George Tirpko (guitar) sharing vocal, harmony and front-man duties, and Jason Code, on drums, display a fearless willingness to push the blues boundaries to bring to the stage a truly original and exciting show.
In the past six years, the band has produced two albums of original compositions blending together a variety of influences and years of performing experience to present a dynamic approach to the blues filled with superb musicianship and tight arrangements.
Their debut CD,

, is a fine example of what it means to look beyond the traditional definition of the blues. It offers everything from driving Texas style to the soulful R&B of "What's the Measure of a Man" (a tribute to the style of Marvin Gaye).
Their latest release,

continues the bands powerhouse approach to the blues and willingness to push the boundaries. It includes a raunchy roadhouse grinder called "Slip it In" and a soulful instrumental featuring Tirpko and his guitar lamenting the loss of a fellow musician in "Blues for Billy C". The 10-track CD ends with a tug at the heartstrings message of love torn apart with "He Can't Love You".
Seasoned professionals, The

knows how to put together a show and present it with flair and excitement, or with smooth laid-back precision from small club settings to large stages. The band has been featured at a variety of venues and festivals including: